MISSION VIEJO, Calif. --
Joey Yellen threw his hands up in celebration as his running back dove for the pylon.
He knew what was going to happen even before it unfolded, having visualized the play in his mind's eye just like many others before it. He's trained for such outcomes. Through countless hours of studying and practicing, he expects these types of moments. The way he sees it, if they didn't happen, he'd be doing something wrong.
Yellen kept his arms suspended above his head as he waited for a referee's signal, confident that he had again made the right moves to crack a defense, this time without even throwing a pass.
This is the game within the game Yellen loves to play. Always watching. Always thinking. Always planning in his head. Each play presenting another decision to make, every defensive look another a problem to solve.
That's the rush of it, the thrill. That's the intoxicant, the thing that fuels his addiction to a sport he can't get enough of, a quarterback position he craves to master.
He had pulled the right strings this time, noticing a subtle adjustment from the defense trying to stop him, one that enabled his running back to take a handoff all the way to the goal line. It should have been another a touchdown, one born from Yellen's preparation, awareness and ability to think and act under pressure.
And from where Yellen was standing, behind the play where he could see it all unfold as he'd envisioned, it looked like a touchdown, another small win in his never-ending internal battle to be the best field general and sharpest strategic thinker he can be.
Except, it wasn't.
~~~
A four-star recruit, high school All-American and second-highest rated commit in Arizona State's 2019 recruiting class, Yellen isn't like most college quarterback prospects.
Playing a position that can spoil humility, his demeanor is marked by untroubled modesty, not smug entitlement. To describe his personality, his mother, Beth, draws an imaginary line with her hand running parallel to the ground.
"He's very even-keeled," she said.
His game is similar, somewhat short on flair but also absent of many flaws. He uses the tools he has -- a sturdy 6-foot-3 frame and strong right throwing arm -- to compensate for the skills he lacks; namely, the ability to beat opponents with his mobility.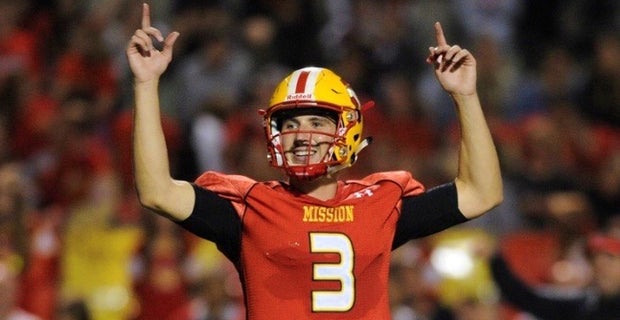 Most of all, the pocket passer has developed an uncommon mental approach to the game, a gifted ability to succeed by using his eyes and his mind instead of athletic improvisation.
As a chess player surveys a checkered board, Yellen scans the playing surface as bodies move around him, some predictably, and some not. His teammates are like playing pieces, and it's his job to put them in the right positions. Each snap is like the next move, giving the cerebral teenager another chance to outsmart his opponent.
"The aspect I learned to like was the strategic aspect of it," he said. "Game-planning is my favorite part, the meetings. 'If they're doing this, what do we want to check to?' That kind of stuff."
Moments before his running back charged for the end zone and Yellen threw up his hands, pleading for officials to signal a touchdown during the third quarter of Mission Viejo's showdown with Capistrano Valley in Southern California earlier this month, Yellen was on the sideline, engaged in the latest of a long line of tactical chats with his coach,
The quarterback was relaying the important detail that had caught his eye: On the previous play, with Mission Viejo's offense lined up in a "stack" formation with two receivers pushed wide near either sideline, Yellen saw Capo Valley's defense make an adjustment. Previously, the opposing linebackers had stayed in the box against that look. This time, he heard Capo Valley coaches yelling for the 'backers to move outside to defend the pass.
Immediately, Yellen identified an opening.
"I just told coach, 'To that formation, they're going to start [changing] that a little bit and we can probably start finding a running lane,'" Yellen said.
Lined up at the Capo Valley 11-yard-line on the next play, Yellen made his reads before handing the ball off to his tailback, who made it all the way to the goal line before running into a pile. Then the ball hit the ground, a fumble recovered by the defense.
Yellen dropped his arms as the referees pointed the opposite direction, his perfect plan ruined by the reality of a sport he can't fully control. Unlike board games, strategy only dictates so much in football.
Since becoming the starter at Mission Viejo last season, Yellen has transformed into arguably California's most productive quarterback. A year ago, his Mission Viejo squad lost just once (in the playoffs to now-USC quarterback JT Daniels' Mater Dei team). This campaign, Yellen has more passing yards (2,681), a better passer (128.2) rating and fewer interceptions (three) than almost any other signal caller in the state.
Recently elevated to four-star status and ranked the 13th-best pro-style passing prospect nationally in his class according to 247Sports, Yellen's become a prodigy, of sorts -- not quite the Bobby Fischer of the gridiron, though he certainly aspires to be. The more he's developed in recent years, the easier the game has become.
The meeting with Capo Valley was a rare tough test. Yellen's Diablos were down by two scores early and tied 24-24 in the third quarter when they fumbled the ball away. The future Sun Devil, a legitimate candidate to replace senior
Manny Wilkins ASU's starting quarterback next fall, never looked panicked.
His high school days numbered, Yellen yearns to test more advanced game theory as he readies for his collegiate transition. Opportunities to sharpen his mental toolkit at this level are becoming fewer and farther between. He relishes each more and more.
"I loved it when they went up 14-0," he laughed. "I'm sitting there cheering, 'I know we're going to get a lot of pass attempts in today.'"
~~~
Inside a nondescript civics classroom the day before the Capo Valley game,
Chad Johnson continued the education of his star pupil.
Clip by clip, Johnson rolled the tape from the previous day's practice, drawing digital lines over film being beamed onto a projector screen in front of his players. After almost every play, his dialogue with Yellen, wedged into a small wooden desk in the front row -- football isn't the only area where he's outgrown what high school has to offer -- picked up again.
For about 45 minutes, Johnson and Yellen went back and forth, discussing everything from pass protections to route combinations to pre-snap audibles, which plays Yellen liked and didn't like, what checks he should make against certain defensive looks. On and on it went.
With his other players, the Mission Viejo coach usually talked in either critiques or commands. With Yellen, the chatter was much more conversational, diving deep into the minutiae of that week's gameplan and the nuances of a sport as unpredictable as it is complicated. The payoff is worth it.
"He gets us out of a lot of bad plays," Johnson said.
An example: After rewatching one snap, where Mission Viejo's scout-team defense tipped a blitz by lining up pre-snap in a Cover 0, Johnson asked, "Joey, what protection call did you make?"
Yellen said he shifted it to one side of the field, but admitted the check he made created an awkward passing angle he wasn't comfortable with. He suggested he'd do something different in a game.
"That's fine," Johnson obliged.
A former center who made all the line calls for his high school team as a player, Johnson has earned the reputation as one of the better offensive minds coaching high school football in the fertile recruiting grounds of Southern California.
As a long-time assistant at local power St. John Bosco, an hour's drive up the Interstate-5 from Mission Viejo, Johnson has developed special quarterback prospects before. Four years ago he helped mold
Josh Rosen , now quarterbacking the Arizona Cardinals, into an NFL-caliber prospect. In Yellen, he sees many of the same traits required to excel at the game in an advanced way.
"He loves the Xs and Os behind football," Johnson said of Yellen. "With a kid like him, you can give him a lot more and he's able to check you in and out of good plays and bad plays. That's what we've been doing. He's been able to beat teams with his mind as well as with his arm."
Yellen was first exposed to Johnson's next-level tutelage as an eighth-grader, when they crossed paths at a Bosco passing camp. Even at that age, Yellen had long been intrigued by the complex mental layers of football. He began to peel them back while playing for Johnson.
Yellen decided to enroll at Bosco and for two years, he and Johnson carpooled the one-hour commute to campus. With Johnson as his coach during his freshman and sophomore seasons, Yellen was fed the high-concept information he craved. Challenged at a different level for the first time, his football knowledge exploded, enabling him to explore his passion for the clever and detailed approach he has since adopted, a style increasingly neglected in this modern era of spread and hurry-up offenses.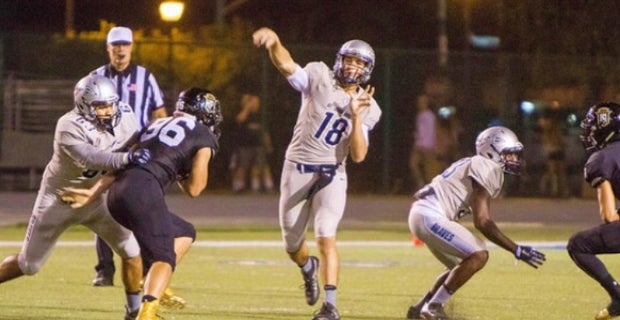 "I wanted to really learn the game," Yellen said. "Eighth grade (football) you're not really learning that much … Pop Warner, it's drop back and throw it to the one receiver running a route.
"(While playing for Johnson at Bosco), that's when I really started understanding what we were trying to do and I became fascinated with it. It just became fun, when you know what you're doing before a snap. That was always cool to me."
Before last season, however, Yellen transferred to Mission Viejo, his neighborhood high school, so he could start right away as a junior. It was an emotional decision. Yellen said he teared up while telling Johnson. His Bosco teammates made him a tribute video to say goodbye.
But equipped with the tools he inherited from Johnson, Yellen flourished. He threw for almost 2,500 yards and 29 touchdowns in 2017 to lead Mission Viejo to a playoff semifinal and put himself on the recruiting radar.
Then, the stars aligned for Johnson and Yellen to reunite. Mission Viejo's former longtime coach retired after last season, creating a vacancy filled by Johnson last December. He and Yellen picked up where they left off at Bosco. Over last winter break, Yellen said the two spent an entire day together redesigning the Mission Viejo playbook, revising the wording and signals for every call to smooth the coaching transition.
"He trusts me," Yellen said. "Bringing me in to help come up with signals and help come up with new terms, that showed me a lot of trust. He always asks me what I like, what I don't like. If I'm not comfortable with something, we're not going to run it."
That level of meticulous planning happens on a weekly basis during the season too. Before each game, Johnson gives his quarterbacks a 50-question test. Most of the queries are about that week's game-plan, but there are two that are always the same: What are their five favorite pass plays? And what is their pre-snap checklist?
Yellen can recite the latter by heart: "The number of safeties: no-high, one-high, two-high? Box count: Are we even in the box? Can we run it? And uncovered receivers: If there's nobody out there, should I give him the bubble screen and just dish it out to him and let it go?"
It has become Yellen's routine before every play, allowing him to test the limits of his quarterback acumen.
"Depending on what I see, that's going to let me know whether I need to check in or out of something and where my eyes should go on a pass protection," he added.
Retelling these habits put a satisfied grin on Yellen's face. There are plenty of prep quarterbacks, even ones with Power 5 aspirations, that would find that level of prep work tedious. Not him.
"I feel like it's pretty rare," he said. "I don't think there are a lot of high school quarterbacks that are asked to do the same things I'm asked to do here … I think it's really big to be able to be smart and be able to solve problems pre-snap so that you have a plan during the play when things break down."
~~~
Jeff Yellen couldn't help but laugh when asked about his son's idolization of one of the NFL's best quarterbacks of all time. He quickly reverted to one of his favorite stories to explain.
"Joey has a shrine to
Peyton Manning in his room," Yellen's dad said. "We went to Tennessee and [saw] that special room for
Peyton Manning -- Joey has more memorabilia than they do."
To be clear, Yellen's fascination with Manning is more than fandom. Growing up in Orange County without a professional team to root for, Yellen gravitated to the Super Bowl-winning quarterback at a young age. It sparked an immediate connection.
Said Jeff: "Joey watched every single
Peyton Manning game…"
Sitting beside him, Beth chimed in: "And rewound it. And watched it. And rewound it. And watched it."
Continued Jeff: "He's watched every single one of them."
Yellen's life-long infatuation with the future Hall of Famer has created a permanent impression on his own game. While Johnson helped cultivate Yellen's mental abilities, it was from watching Manning, and all his before-the-play calls and checks and audibles, that he learned to embrace football's mental challenges, especially for quarterbacks.
"All that stuff pre-snap always fascinated me, how he was the worst athlete on the field every game he played in but also the best player," Yellen said. "That was always crazy to me. I always thought it was cool how he could just beat somebody with his mind."
Yellen has developed into a similar mold.
The soon-to-be Sun Devil will never be mistaken as a dual-threat weapon. He makes plays by throwing the ball and reading the field, not running all over it. That's not to say Yellen is immobile; he instinctively moves around the pocket to evade tacklers and extend plays when needed.
But much like Manning, Yellen's game is anticipatory -- his mind is always several moves ahead, able to diagnose what's about to happen before the snap and make the needed adjustments at the line, skyrocketing his odds of picking apart defenses from the pocket.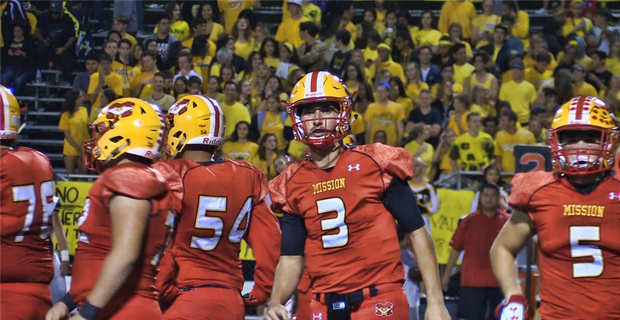 It's usually effective, especially at the high school level, but doesn't make for attention-grabbing tape. Yellen thinks it's why his recruiting process was slow, lagging behind other signal callers in the area who were less productive but more athletic.
"It doesn't pop out on highlights," Yellen said of his intangible skills.
He felt overlooked after finishing his banner junior year with only a handful of Group of 5 and FCS offers.
"That was always frustrating," he said.
When Johnson arrived at Mission Viejo last winter, Yellen said the coach sat him down and laid out the facts: The spring circuit of passing camps and 7-on-7 events was going to be critical. Yellen went to work.
"I made a lot of big jumps from last year to spring ball," he said, citing developments both mental and physical. "I had to drop weight, I had to be quicker. I didn't move around a lot last year. It's still not my game but I can extend a play now."
Best of all, he was able to sit down with coaching staffs in interview settings for the first time. Colleges replaced the football in his hand with a whiteboard marker, asking him to draw out plays and break down coverages. It gave him a forum to show off his uncommon football mind, to show how he thinks about the other 21 pieces on the playing field.
"We were able to do board interviews," he said. "Almost every school I got offered by put me on a board first to see what I knew … That was really fun for me. I loved doing that."
ASU became one of his first big offers and by early June he was ready to give the program a commitment. His ascension from a relatively unknown prospect to Pac-12 pledge was startling.
"We'd never been through it before, so we didn't know what it was supposed to be," Jeff said of Yellen's recruiting process. "We always thought Joey was good but we didn't know. Heck, all of a sudden Joey started growing and then all of a sudden he's 6-3 and then everybody considers him really good. And now, the other night on my way home in the car, ESPNU radio was talking about him."
While his skill-set, substance-over-style in nature, was slow to be noticed by scouts, Yellen is optimistic it will allow a quick adjustment to college football (he plans to graduate high school early and enroll at ASU in the spring).
"I feel like the tools I have are the vital ones," he said. "There's no way of telling now but hopefully those will help me a lot next year."
~~~
At a critical fourth-quarter crossroads in a still tied-game against Capo Valley, Yellen looked to toward the bench, waiting eagerly for Johnson to pick a play with Mission Viejo facing a third-and-6 at the Capo Valley 11-yard-line.
Johnson, pacing the sideline, took an extra moment to send a call in. Then, he put the moment in his quarterback's hands.
Yellen turned his eyes to the defense, saw Cover 0 -- the same man blitz look he and Johnson had discussed during the team meeting a day earlier -- and made a check, switching to a quick-game throw to combat the anticipated pressure. It was a winning move.
While one of his receivers set a "pick" -- another topic discussed during the film session the day before -- a Capo Valley defensive back got lost in coverage. Yellen exposed the bust, found tight end TJ Roelen wide open in the left flat, and lobbed him the go-ahead and eventual game-deciding touchdown pass in a 31-24 win.
A week's worth of prep and a career's worth of mental development all paid off in a moment that ended with Yellen, almost never too high or too low, cooly administering high fives as he trotted back to the sideline.
Since the Capo Valley victory, Mission Viejo's season has hit a bit of a snag. The team was forced last week to forfeit four wins for playing an ineligible player, then lost last Friday by one point. It will need a win in this Friday's season finale to qualify for the postseason.
But it has a quarterback who appears to know how to handle adversity.
"You've just got to be calm, just got to keep pushing them through," he said. "You've got to take every play as a new play, it's another opportunity."
These trying moments present the kind of challenges and intense level of pressure that Yellen hasn't often faced in his high school career. He relishes in the opportunity to overcome them. He knows it will help his fast-approaching transition to ASU.
When Yellen shows up in Tempe as an early enrollee in a few months, there will be no incumbent at his position. There's no clear heir apparent to Wilkins (redshirt sophomore
Dillon Sterling-Cole is a potential successor but has been unconvincing in his first three seasons on campus). He might find himself as the odds-on favorite to win the job, the promising freshman who could be at the cornerstone of an ASU rebuild.
Of course, there will be inevitable challenges that come with the move to college ball to deal with first: the speed of the game, the balance of schoolwork, a new coaching staff and the heightened complexity of the schemes. All those obstacles shave the margin for error for freshmen, especially quarterbacks.
Yellen doesn't need to be reminded.
"There's some stuff I'm still trying to work on so it's better by whenever I get to ASU," he said. "That mental stuff, the speed stuff, that's all going to be stuff I'm going to continue to work on and after the season really dive into as well."
But as it stands now, it appears Yellen will have every opportunity to win the Sun Devils' quarterback job as a true freshman in 2019.
The notion draws a shy smile to his lips.
"Right now, I don't tell myself that too much," he said, sidestepping speculation and playing it safe with his words. "There's so much that can change at some point. I try my best to take it one game at a time, one season at a time. My main focus has been on this season."
But he's well aware that potential exists. It's possible not because of any overwhelming athletic gift but because of his lifelong commitment to playing a mentally-sharp, sophisticated and advanced brand of quarterback.
The best indicator of his skills might be seen through his teammates. Like pieces on a board, Yellen uses the wisdom he's been pursuing all his life to put them in position to succeed. With him at quarterback, everyone on Mission Viejo's team seemingly gets better.
"I got to owe it all to Joey," Roelen said after collecting his game-winning touchdown "The way he reads defenses is ridiculous."
Source : https://247sports.com/college/arizona-state/Article/Mind-games-Mission-Viejo-Arizona-State-quarterback-2019-commit-Joey-Yellen-dedicated-to-QB-mastery-123728573/
4638